1. I cant install BetOnDroid to my device
Before attempting an installation of BetOnDroid you must first allow your phone/Tablet to install applications from "Unknown Sources" (i.e. non Google Play).
To do this, navigate to
Menu -> Settings -> Applications and check the box marked "Unknown Sources" for Android Froyo/Gingerbread/Honeycomb powered devices
Menu -> Settings -> Security and check the box marked "Unknown Sources" for Android IceCream/JellyBean powered devices
After that try to install BetOnDroid again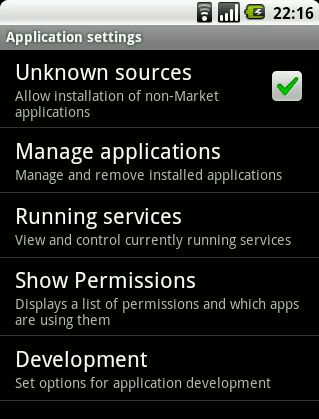 2. I am Android version 2.2.x (aka "Froyo") device owner. Why prices refreshed so slow on my device?
Android v.2.xx devices no longer supports
3. What is Betfair API?
Betfair sports exchange
API
enables developers to create applications that seamlessly integrate with the Betfair sports exchange. So you can access exchange with some application instead of using
www.betfair.com
web-site. Generally speaking, any developer have ability to create application to access Betfair for its own use or for selling.
4. Do I need to create new Betfair account with BetOnDroid app in order to use it?
No. Actually you dont need to create new Betfair account with BetOnDroid application menu "Create Betfair account" to use BetOnDroid. You can use with BetOnDroid application your existing Betfair account as well as new one.
5. I cant make login to Betfair with BetOnDroid application. What is wrong?
As part of Betfair licensing agreement with Spain and Denmark, Betfair are only permitted to offer Spanish and Danish customers access to regulated markets only. These markets are offered via the dedicated websites like
http://sports.betfair.es/
. The other restricted countries listed below. These countries are completely blocked from using Betfair via any channel and as a result they would receive the LOGIN_RESTRICTED_LOCATION when attempting to login:
France, South Africa, Turkey, USA, Japan, China, Hong Kong
6. Could I place a bet below Betfair minimum bet size?
Generally – yes. According to Betrfair
Terms and Conditions
"… You are not permitted to place bets or try to place bets that are below the minimum bet size threshold and doing so may result in your account being permanently closed".
BetOnDroid allows you to set up any bet size more than 0.01.
Also you could change size of unmatched bets. Just long press on unmatched bet at market view screen and change bet size for any amount or use menu "My bets" and change bet size using long click on unmatched bet
7. Why I cant use BetOnDroid in my contry?
There are quite a few countries that have officially banned Betfair because of legal restrictions. You may face Betair login issues in these countries if the Betfair remote server will detect the IP address of that country. These countries are – Europe: Belgium, Bulgaria, France, Germany, Greece, Turkey, Asia: China, Japan, Israel, America: Canada, Cuba, USA, Africa: Ivory Coast, DR Congo, Eritrea, Libya, SAR, Somalia, Sudan
8. Is this legal to use BetOnDroid for the Betfair web site access?
Yes, absolutely legal. BetOnDroid is official Betfair solution that was approved by Befair security team. See BetOnDroid on
Betfair site
.
9. Is BetOnDroid supports Australian events betting?
Yes, Australian events betting is fully supported
10. What the minimum requirements for BetOnDroid application?
Hardware: any Android based phone or tablet. Android OS: v4.0 (IceCream) or higher. Internet connectivity: Wifi, 3G, GPRS, or similar. (Additional fees may apply for data transfer, call you mobile provider)